Rehabilitation & Allied Health
Written by

Kate Bradshaw

Ripples NSW

(02) 9833 3000

(02) 9833 3311

ripples@ripplesnsw.com.au

https://www.ripplesnsw.com.au

Charles Hackett Drive

St Marys

NSW

2760

Australia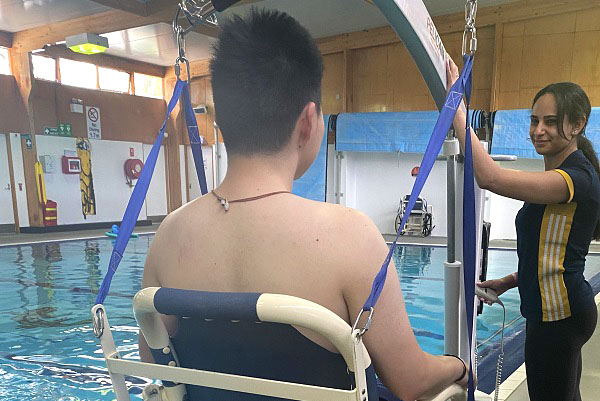 Our Exercise Physiologists provide treatments in our Hydrotherapy centre and gym to improve mobility, functionality and overall health and wellbeing. Whether you have experienced an injury or have a chronic medical condition, our services can be tailored to meet your needs.
Medicare
To be eligible for a Enhanced Primary Care Plan under Medicare, we require a referral from a GP. Eligible referrals are bulk billed with no gap to pay, up to 5 visits per calendar year. Clients of Aboriginal or Torres Strait Island descent receive a further 5 visits under Medicare. Examples of conditions include; back pain, diabetes, high blood pressure, heart disease and mental health conditions. Clients with type 2 diabetes are also eligible for an additional referral under Medicare (Allied Health Group Services Referral). This referral includes an initial assessment plus 8 group exercise sessions with our Exercise Physiologists and Dietitian.
Workcover and CTP
If you have sustained a workplace injury or have been involved in a motor vehicle accident, Ripples can provide rehabilitation services with approval from your insurance company. We will communicate regularly with your case manager and doctor to assist with your return to work and life.
National Disability Insurance Scheme (NDIS)
Ripples is a Registered NDIS Provider, and your consultations with our Exercise Physiologists can be fully funded by the NDIS. We accept funding allocated to the category of "Improved Health and Wellbeing" as well as "Improved Daily Living". We will communicate with you and your support coordinator in developing the best treatment plan for your needs.
Department of Veterans' Affairs (DVA)
Entitled DVA clients may be referred to an accredited Exercise Physiologist for clinically necessary exercise physiology treatment by their General Practitioner on a valid D904 referral form, or a doctors' referral.
Private Patients
We accept a range of private health funds, however, please ensure that your insurer covers exercise physiology as part of your premium. We also accept private patients without a referral or private health insurance, please contact the hydrotherapy centre for pricing information.